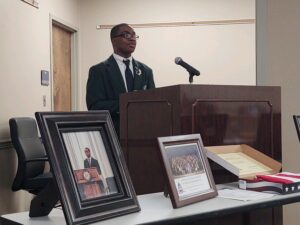 A room full of Democrats in person and a screen full of Democrats on Zoom were treated to a vision of the future on Thursday night, March 16. The future is tall, handsome 17-year-old Stanley Stoutamire, Jr., a resident of Calera who, along with Ella Duus of Huntsville, represented Alabama in Washington DC on March 4-11 as part of the 104 high school seniors nationwide (two from each state, the District of Columbia, and Department of Defense schools) selected for the United States Senate Youth Program.
Attired in his classy school blazer and tie, Stanley Jr., a senior at John Carroll Catholic High School in Birmingham, captured the attention of the crowd with a quick recitation of the many offices and honors he holds in his school and various organizations, plus extensive volunteer work. He then described his path to that exciting trip to Washington. While conducting an Internet search for college scholarships one night, he stumbled upon a mention of the US Senate Youth Program and the $10,000 scholarship for attendees. Curious, he serendipitously clicked the "More" button. That mouse click led him to complete the extensive application, which led to his being named a finalist, which led to a stressful in-person interview which seemed to last hours (but was about 20 minutes, according to his mom), which resulted in his selection.
After his first plane trip with no parents, Stanley was met at the airport by a military escort. Members of the US military were on hand to mentor, encourage, and protect the students. His conversations with the ever-present military members were memorable to Stanley. He was impressed with their dedication to their jobs and their deep pride in serving their country.
During their week at the posh Mayflower Hotel, the students were treated to food Stanley described as "out-of-this-world." The desserts, he said, were particularly memorable, like a white chocolate model of the US Capitol building. Getting to know other high school seniors from all over the county, with a roommate from literally the other side of the globe (Hawaii) and meeting people from wildly different backgrounds gave him a new understanding of the diversity of our country, plus lots of new friends.
The bright, accomplished youngsters were able to tour the Library of Congress, the National Archives, and some of the Smithsonian museums, and visited many of the famous memorials in the country's capital. Stanley's favorite memorial statue was that of Martin Luther King, Jr., and he is proud of his photo standing in front of the impressive statue and striking the same pose.
The program attendees spent a lot of time in group settings, both large and more intimate, with various senators and government officials. Among Stanley's fondest memories are his visit with Sen. John Hickenlooper, who spoke to a small crowd of students at length about life, and the surprising turns it sometimes makes. He also enjoyed hearing Justice Sonia Sotomayor, who encouraged the young people to broaden their horizons and echoed Sen. Hicklooper's advice to embrace unexpected opportunities. Stanley enjoyed his encounter with Sen. Cory Booker, whose bubbly personality made him a favorite with the group. Stanley and his state partner Ella Duus were scheduled to meet with Alabama's two senators, but Sen. Tuberville was otherwise occupied during the appointed time. However, they had an enjoyable conversation with the personable Sen. Katie Britt.
Stanley returned home to central Alabama with a renewed appreciation for how the real work in Washington is done. His life goal at this time is to finish medical school and eventually to be able to be a liaison between medical providers and government agencies. Given his outstanding poise and eloquent presentation, his obvious intelligence and grasp of issues affecting all Americans, plus this experience with viewing the US Senate up close, don't be surprised to see Stanley Stoutamire, Jr.'s name on a ballot in the future.