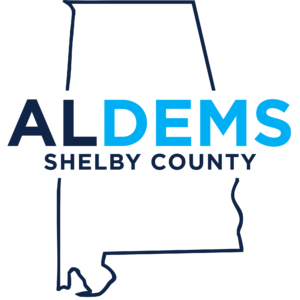 Welcome to Alabama's
Shelby County Democratic Party
Shelby County Democrats are committed to working towards a government that is beneficial for all the people of Alabama, regardless of gender, race, age, religious beliefs, sexual orientation, or ethnicity.
Click on the icons in the upper right corner of the screen to view our Facebook and Twitter feeds, or follow us at:
Shelby County Democrats Facebook
Check the "Events" tab to see our full Calendar of upcoming meetings and social events.
Are you running for office in 2022? Qualification season begins at 9 am on Monday, December 6 and ends at 5 pm on Friday, January 28.
Candidates for State office, including House, Senate, District and Circuit Court Judges, District Attorneys, and State Democratic Committee member seats can submit paperwork online at aldemocrats.org between 9 am Dec 6 and 5 pm Jan 28. For questions, call (334) 262-2221 or email political@aldemocrats.org.
In 2022, several Shelby County offices will be up for
re-election: County School Superintendent, County BOE positions 1 and 2, County Sheriff, and County Coroner. If you are considering a run for a Shelby County office, please let the Shelby County Democratic Party know at ShelbyCountyDem65@gmail.com. County paperwork will be available starting Dec 6 and may be sent by email or mail, or hand delivered to:
5172 Stonehaven Drive, Birmingham 35244.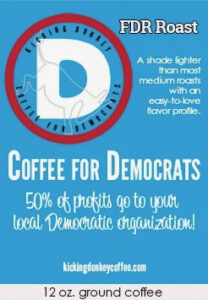 Looking for the perfect gift for your coffee-loving relatives and friends? Check out "FDR" medium or dark roast at Kicking Donkey Coffee! Include the AL Shelby County Democratic Party as your "company" and we will receive 50% of the profits on each bag. Find out more at KickingDonkeyCoffee.com!