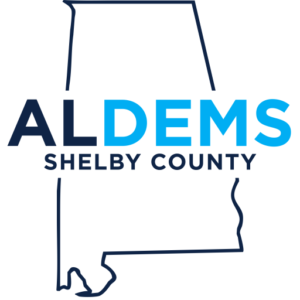 Welcome to Alabama's
Shelby County Democratic Party
Shelby County Democrats are committed to working towards a government that is beneficial for all the people of Alabama, regardless of gender, race, age, religious beliefs, sexual orientation, or ethnicity.
Click on the icons in the upper right corner of the screen to view us on Facebook, Twitter, or YouTube.
See our "Events" tab for a calendar of upcoming social gatherings and meetings.
We're Trying to Clean Up the County !!!
After many days of soaking rain showers, Community Service Committee Chair Leslie Tyus, by sheer force of will, kept the rain away on Saturday, May 20, for May's donation drive. Volunteers gathered at our often-used outdoor venue, the parking lot near Staples and Big Lots in Pelham, to receive donations of household cleaning supplies and personal hygiene items. A sea of containers of laundry detergent, dish soap, disinfecting cleaners, body wash, soap, and shampoo, plus piles of packages of toilet paper, paper towels, and feminine hygiene products quickly covered the asphalt under the white tent sporting our huge Shelby County Democrats banner.
In addition to Committee Chair Tyus and County Chair Marsha Sturdevant, several volunteers included the usual suspects Troy Goss, Sheila Roche, Chris Nelson, and Cheryl Olin, plus the welcome addition of first-time volunteers Don and Nancy Simmer and Sheila Pavlovac, all of whom helped unload donor's cars and organize items. As usually happens at the donation drives, folks dropped by to express surprise at finding an active and engaged Democratic Party in Shelby County. It's always fun to meet people who are happy to know that there are other Dems around.
Luckily, some of the volunteers drive large vehicles, because three SUVs were filled to bursting with all the items collected, which will help clients of the Shelby Baptist Association Ministries, Shelby County Emergency Assistance, and Oak Mountain Mission Ministries.
Don't be shy about volunteering; we have fun and we help people. Watch the Shelby Democrats newsletter for announcements of future projects.