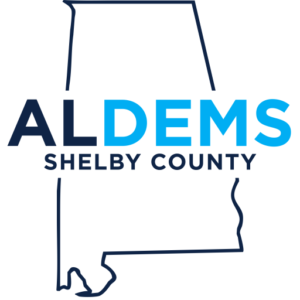 Welcome to Alabama's
Shelby County Democratic Party
Shelby County Democrats are committed to working towards a government that is beneficial for all the people of Alabama, regardless of gender, race, age, religious beliefs, sexual orientation, or ethnicity.
Click on the icons in the upper right corner of the screen to view us on Facebook, Twitter, or YouTube.
See our "Events" tab for a calendar of upcoming social gatherings and meetings.
Shelby County 2024 Election Cycle

Democratic Qualifying for Shelby County Offices for the 2024 election cycle is complete. All nine County Commission seats, two School Board seats, County Superintendent of Schools, and Probate Judge are on the ballot.
2024 Democratic Candidates
County Commissioner District 2:
County Commissioner District 3:
County Commissioner District 4:
County Commissioner District 5:
County Commissioner District 6:
County Commissioner District 7:
Spencer D. Stone
Marsha S. Sturdevant
County Commissioner District 8:
County Board of Education Place 1:
District Judge Place 2: