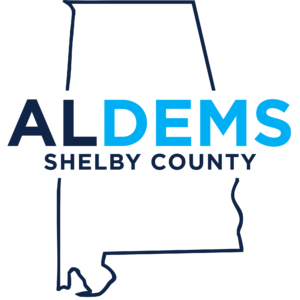 Welcome to Alabama's
Shelby County Democratic Party
Shelby County Democrats are committed to working towards a government that is beneficial for all the people of Alabama, regardless of gender, race, age, religious beliefs, sexual orientation, or ethnicity.
Click on the icons in the upper right corner of the screen to view our Facebook and Twitter feeds, or follow us at:
Shelby County Democrats Facebook
Shelby County Democrats Twitter
Click on the link below for our Youtube channel:
See our "Events" tab for a calendar of upcoming social gatherings and meetings.
Annual Blues & BBQ Celebration!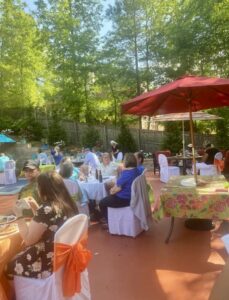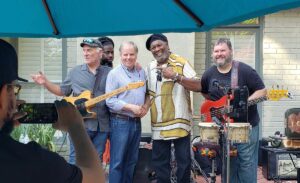 A large crowd of Shelby County's Democrats socialized and celebrated on Saturday, April 30, at the Reunion edition of our annual Blues & Barbecue fundraiser. Warm breezes, a cloud-dotted sky, a beautifully landscaped, party-perfect terrace at the gorgeous home of hosts Carole and Al Marks, plus the hard-driving, gotta-move-to-it music of the Automatic Slim Blues Band – what else do you need for a perfect Saturday afternoon?
Food and drink, that's what! Meaty ribs, chicken legs, and sliced pork, evidence of many hours of hard work by the hosts and volunteers, anchored the food table, with side dishes and banana pudding to dream about. Beer, wine, soft drinks, and harder stuff were in abundance to quench all types of thirst.
A silent auction included several works of art, some of them originals, plus wild salmon caught in Alaska, some posh ladies' accessories, collectable books, and a basket of Kickin' Donkey coffee items.
A major highlight was the appearance of Senator Doug Jones in our midst. The Senator, gracious as always, chatted with attendees, addressed the crowd, and did a live interview on MSNBC from the party before he dived into a plate of ribs.
The funds raised from ticket sales and the silent auction will go to much-needed campaign expenses in this all-important election year. Donations are also accepted on the Donate section of this website.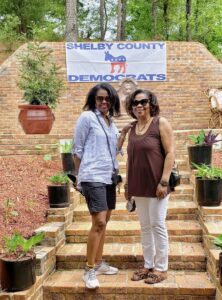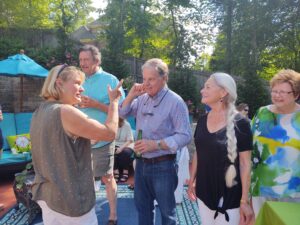 Food for Kids Drive – May, 2022
Shelby County Democrats Food for Kids Drive
supporting children from food-insecure families during non-school months
On Saturday, May 21, from 10-12 noon, we will be gathering food items suitable for children at our collection site in the parking lot of BigLots in Pelham on Hwy 31. Summertime is often difficult for food insecure families, and we are partnering with local agencies and schools to help.
You can help by donating kid-friendly food items in individual-sized packages or pop-top cans. Click on the link below for a flyer showing suggested food items and donation details.