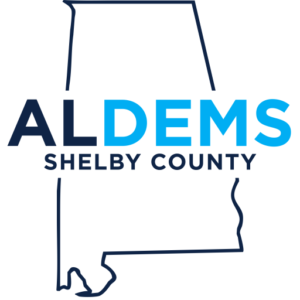 Welcome to Alabama's
Shelby County Democratic Party
Shelby County Democrats are committed to working towards a government that is beneficial for all the people of Alabama, regardless of gender, race, age, religious beliefs, sexual orientation, or ethnicity.
Click on the icons in the upper right corner of the screen to view our Facebook and Twitter feeds, or follow us at:
Shelby County Democrats Facebook
Shelby County Democrats Twitter
Click on the link below for our Youtube channel:
See our "Events" tab for a calendar of upcoming social gatherings and meetings.
Join us for our Diaper Drive!!!
March 25, 2023
On Saturday, March 25, we'll be collecting child and adult diapers, pull-ups, and wipes. Drop off donations at the Community Room of Shelby County Services Center, 1123 County Services Drive, Pelham 35124 from 10 am to 12:00 noon:
ADULTS: (Various sizes from Small to Plus)
Diapers with velcro
Pull-up Diapers (Depends)
Fragrance-free Wipes
KIDS:
Baby Wipes
Diapers sizes 3, 4, 5, and 6
Pull-ups size 2T's
Pull-ups size 3T's
Need to drop off items before Sunday? Please email shelbycountydem65@gmail.com for other drop-off options.