Annual Blues & BBQ Celebration!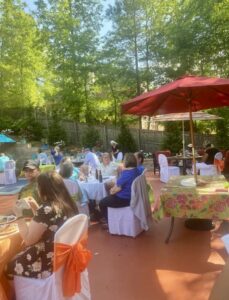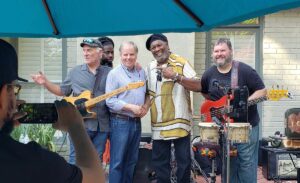 A large crowd of Shelby County's Democrats socialized and celebrated on Saturday, April 30, at the Reunion edition of our annual Blues & Barbecue fundraiser. Warm breezes, a cloud-dotted sky, a beautifully landscaped, party-perfect terrace at the gorgeous home of hosts Carole and Al Marks, plus the hard-driving, gotta-move-to-it music of the Automatic Slim Blues Band – what else do you need for a perfect Saturday afternoon?
Food and drink, that's what! Meaty ribs, chicken legs, and sliced pork, evidence of many hours of hard work by the hosts and volunteers, anchored the food table, with side dishes and banana pudding to dream about. Beer, wine, soft drinks, and harder stuff were in abundance to quench all types of thirst.
A silent auction included several works of art, some of them originals, plus wild salmon caught in Alaska, some posh ladies' accessories, collectable books, and a basket of Kickin' Donkey coffee items.
A major highlight was the appearance of Senator Doug Jones in our midst. The Senator, gracious as always, chatted with attendees, addressed the crowd, and did a live interview on MSNBC from the party before he dived into a plate of ribs.
The funds raised from ticket sales and the silent auction will go to much-needed campaign expenses in this all-important election year. Donations are also accepted on the Donate section of this website.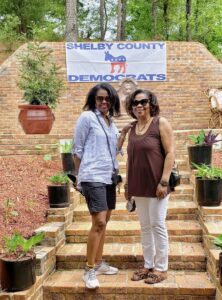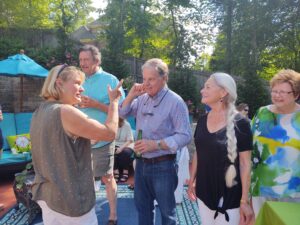 Shelby Dems Shine at MLK Day Event in Montevallo
January 16, 2023
Shelby County Democrats were honored to be part of the Shelby NAACP-sponsored Martin Luther King, Jr Day march and memorial event in Montevallo on Monday, January 16. Several hundred people, from senior citizens to children in strollers, made the chilly walk from Main Street to Montevallo High School, then funneled into the auditorium for a standing-room-only program that honored the memory of Dr. King and recognized citizens who contribute to their community.
Recognized with the Community Service Award was our own Leslie Tyus, Chair of the Public Relations Committee for the Shelby County Democrats. She was presented an award certificate and gold medal for organizing successful supply donation drives each month of 2022, which provided many local helping agencies and schools with mountains of items ranging from school supplies to diapers to shelf-stable foods. Congratulations to Leslie, and many thanks for your hard work and that of your committee!
It also proved to be a grand day of making new friends for the Shelby Democrats who snagged the prime location for an outreach table, just inside the entrance to the lobby of the auditorium on the lovely Montevallo High campus. The table area, decorated by volunteers Sheila and Paul Roche, Jerry McDonald, and Cheryl Olin, sported our new "Democrats Believe In" banner that highlights the array of policies supported by the Democratic Party. Available for distribution were replicas of that banner plus handcards with information about our meetings and contacts. There were lots of introductions and invitations and email addresses shared. There should be some new faces at the next monthly meeting!